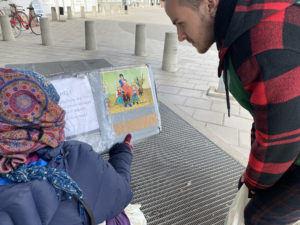 I projektet "Pentru Tine" jobbar projektledare och uppsökare från Stadsmissionen med att ta kontakt med människor ur målgruppen, för att informera om deras rättigheter, men också skyldigheter. Syftet är att stärka människors egenmakt och inkludering i det svenska samhället. Informationen som förmedlas berör även deras rättigheter i hemlandet.
The target group is in a difficult situation from a legal point of mind. As EU citizens, they have the right to free movement within Europe and have the right to look for work in Sweden, but language difficulties and lack of schooling make it difficult to enter the Swedish labour market and most get caught up in begging.
The project is funded by FEAD (Fund for The Most Deprived) and is part of the Swedish ESF Council which works on skills development, employment measures and integration efforts. The Swedish programme works with social inclusion efforts where Sweden focuses on two areas – social orientation and health promotion. Community orientation can be directions to shelters and doctors, information about conditions, rights and obligations in Sweden. Health promotion is information on how the target group can manage their health in the best way and maintain good health and hygiene in the vulnerable situation in which they live.
Projektet drivs även i Stockholm, Linköping och Eskilstuna och pågår till juni 2021.
"Jag är så tacksam för hjälpen till mig och min fru. Det betyder mycket för oss! " //Pompillo, 70 år, Rumänsk medborgare
Kristina Valheim Stiauren, Uppsökare (tv) och Ciprian Tiganoiu (th), Lokal projektledare, Pentru Tine Uppsala.
Ciprian Tiganoiu
Lokal projektledare "Pentru Tine – För dig"
Tel: 076-145 80 10